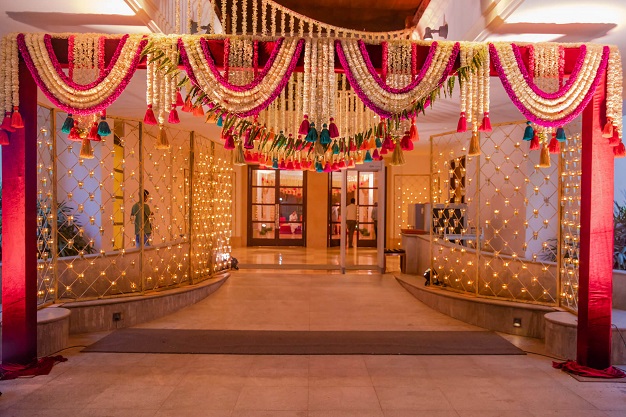 Planning a wedding may get a hectic task. While it is overwhelming, it may also give you some panic pangs. Hold on, we do not intend to scare you. We're just here to make this process a little easier for you. While one is always excited for their big day, they always want to make it the best day ever (it surely is). When it comes to planning a wedding, there are a lot of things to consider starting from the wedding venue, guest list, menu, outfits, location and much more. Ut hey, have you ever thought about the wedding theme.
The wedding theme is apparently a new-age concept which can make your wedding planning not only easier but also interesting, impressive and very chic, the one of a kind, which will be remembered for years. Hence, if you're struggling hard to get some amazing ideas for your wedding theme, here we have listed some. These themes can be incorporated in an indoor venue and would work great to make your wedding planning a relatively hassle-free one.
Indoor garden
Indoor garden themes for weddings add a surreal and classic vibe to your wedding decor. While inviting the greenery and authenticity, you also invite the positive vibes with the garden theme. It is one of the best indoor theme which plays with a unique concept to entertain your guests.
Floral and ferns danglers and hangings play an important role in this theme. Place artificial grass carpets all around and fill the space with the flower pots decor. You can also hang the grass and floral wreath all around the area to give it a more surreal feel. Indoor plants are one of the major motifs you must incorporate. Use leafy table mats with an arrangement of flowers. For an enhanced experience, you can also go for an artificial lake or pond.
Lucknowi Theme
If you're the one who fancies the "Nawabi Andaaz", this is the theme you should go for. For the Lucknowi wedding theme, go for an expert, heritage-style venue. You can also go for a spacious banquet which is elaborately decorated and designed in the Nawabi style to match the theme.
For the decor, you must include the red roses in the theme as it is one of the main motifs of the Lucknowi theme. Add the lanterns, chandeliers and coloured glasses to enhance the Mughal feel. "Ittar" should be an important part of this them. Welcome your guests with Ittar and rose petals. You can also hire professional Gazal singers.
Gajras is another motif which should be present in the Lucknowi wedding. The special feature of the Lucknowi themed wedding can be the Ghazals and Nazms being performed live.
Royal theme wedding
A royal, majestic wedding is one which everyone desires. It's the time when you are the king and the queen of the show and of course, you want to enjoy it to the fullest. For a royal wedding theme, one thing which plays a critical role is the venue.
If you want a royal wedding. The venue must be royal too. Choose a luxurious venue with open spaces as well as lavish indoor arrangements. Choose the lightings which reflect the theme the best. You can also ask the DJ to play the Shehnai and Nagada music in the background for enhanced vibes.
The bride and groom outfit should also run in accordance with this theme. While every bride and groom looks no less than a king and a queen on the D-Day, choose some traditional and royal, coordinated lavishly to go with the theme.
While the royal wedding has a lot to do with the decor, ambience, venue, outfits and music, it has a lot to do with the food too. The touch of grandiose should reflect on the food menu as well. And not just the menu, but the cutlery and food section decor.
Vintage theme Wedding
The vintage theme is always classic and chic when it comes to planning any event. It is always delightful and helps in recalling back the olden times which we all love. For planning your wedding in Vintage style, use pastel colours, lots of laces all around and dangling motifs like ribbons.
Add centrepieces on each table which can be ancient and antique cups or containers overflowing with crystal white pearls. Add mirrors around the venue and antique accessories to compliment the theme. Believe us, your guests will truly love it!
Any theme, any design, Club5 is at the forefront to help you organise a perfect wedding. Our beautiful premises and opulent, spacious banquets are potent to adapt various themes to make your D-Day a truly memorable one.