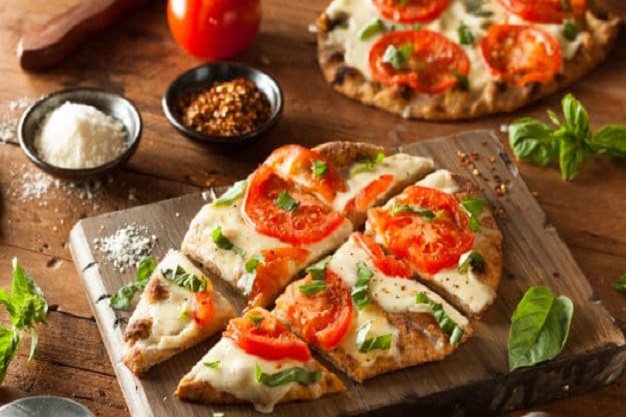 When it comes to food cravings, one of the first cuisines that come to our minds is Italian. Italian cuisines in undoubtedly one of the most drool-worthy! The exotic and authentic dishes overloaded with cheese and herbs are surely a paradise for the cheese lovers!
The thought of doughy pizza, gooey pasta, flavourful spaghetti is tempting enough to make you go craving for these delightful treats. Italy is surely one of the leading countries when it comes to food. While each region has its characteristic food which is delicious and lip-smacking, Italian food is one of the most famous all around the world!
Here we list some of the amazingly delicious Italian dishes which you must try if you are a true foodie at heart!
1. Lasagna
It is the form of pasts which is flat and wide. It is served with multiple toppings of different sauces and mayonnaise along with the paste of special herbs and spices. They also have hand-tossed vegetables which add to its nutrition value. Lasagna has become one of the most famous Italian dishes all around the world which is totally drool-worthy.
The perfect combination of rightly baked pasta with grilled and sauteed vegetables, cheese, sauces and much more delivers what is just beyond perfect for any foodie. If you love Italian food, this is one of the dishes that you must try!
2. Gelato
When it comes to sweet and cold, it has to be ice cream! Gelato is the special ice cream famed from the land of Italy. Though it is a kind of ice cream, it is so much better than just an ice-cream. It has so much low butterfat and fewer calories from regular ice cream.
This makes it a preferable choice for the health-conscious people as well. However, in addition to health value, Gelato is also loved for many more reasons! It does not have any added water and air like other ice creams to add weight and volume. Adding these to ice cream also results in diluting its flavour. In Italy, he gelato ice cream is made without any added water or air.
This results in a perfectly velvety, melt-in-mouth texture and enhanced flavours! The gelato is no less than a magic for the ice cream lovers. It is also served at the lower temperature than regular ice cream and so it delivers the perfect melt-in-mouth taste! The storage span of gelato is less, so you'll always get the fresh flavourful treat! If you haven't yet tried this gem, we insist you to do it now!
3. The farmhouse pizza
Pizzas are bae, not only for us but for most of the people. It is most likely that a die-heart foodie will always be craving for fresh, perfectly bakes and cheezy farmhouse Pizza! This amazing dish comes with magic which happens to fix anyone's mood anytime. If reading this just got you drooling, you're just one of the "Pizza is bae" person.
It is said that when it has to be Pizza, it has to be Italian pizza for the classic and authentic taste. The recipe of the soft, cheese-filled dough coated with homemade tomato sauce and lavishly topped with fresh and grilled vegetables, herbs and spices never fail to make anyone's day! While most of us are big fans of this Italian dish, the true taste of Italian Pizza comes from an authentic Italian Kitchen!
4. Risotto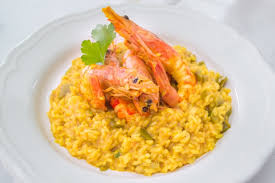 Risotto is another famous Italian dish which is known for its rich blend of flavours along with nutrition. While Italy is famous for the Pizza and Pasta, they are not the only gems hailing from this beautiful land. Risotto is the rice speciality dish in Italy.
Italy is one of the largest producers of rice in Europe. In spite of this, the regular staple food is pasta or pizza. However, this luxurious, rice-based dish is served lavishly and proudly in Italy for its exoticness and nutrition value. The rice is soaked, cook and blended with spices to form a semi-soup like paste. This soup consistency is then blended with vegetable and herbs for enhanced flavour and nutrition. Risotto is also famous immensly because it accommodates any flavour so richly and aptly!
5. Panna Cotta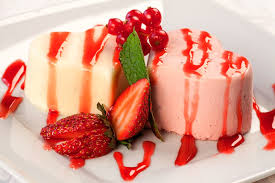 Panna Cota is another Italian sweet dessert. It is also known as cooked cream. It is the cream which is thickened by adding gelatin and then moulded. It comes in different flavours and the most popular ones are vanilla with strawberry and blueberry toppings and coffee with caramel coating. If you haven't tried this sweet gem from the Italian dessert menu, you're missing on some great taste. This is one of the must-try Italian dishes which we recommend and is famous all around the world.
6. Italian cheese toastie
We all love toast. When it comes to an Italian cheese toastie, it is no less than a foodie's paradise!. Italian cheese is conveniently all around the world. The Italian cheese toastie is nothing but a flavourful combination of freshly baked bread wh9ich is another speciality of Italian Kitchens and oozing cheese with grilled or boiled vegetables and oregano. Is your mouth watering yet? We're sure it is!
7. Tiramisu
When it comes to desserts, Italy has some of the finest range. Italian sweets and desserts are known all around the world for its flavours and rich assortment. While gelato is one of the best options available for the calorie-conscious people, for the people who love to binge on the taste, flavours and a little more of cream, Tiramisu is the best dish.
Tiramisu is the Italian dessert which has multiple layers of flavourful creams, cookies and more. It is a no-bake recipe. It has alternate layers of cheese and coffee, caramel soaked ladyfingers. The traditional Italian Tiramisu is the after-dinner dessert featuring the highest quality coffee and cream.